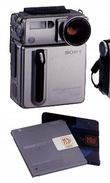 Photo: AV Watch Japan
Sony DSC-MD1
MD digital still camera
Intro: 10/1997
MSRP ¥125,000
Availability:

AV out: minijack. Digital i/o: highspeed rs232 (minijack). Audio analog i/o: line (minijack). Infrared: IrDA 1.1 (9.6kbps-1.152mbps)
87x116x56mm, 490g (600g w/battery, MD, lenscap)
Features: Stores up to 2000 images (fewer if audio narrations are also recorded) in ``Picture MD format'' (using MD Data discs), it can also function as an MD audio format recorder/player through analog line i/o ports.
User Comments: Having owned the Sony DSC-MD1 digital camera for a number of years, I was always disappointed and frustrated by the decision of Sony not to release this to international market. One of main gripes as a result of this decision was with the interface software for the camera. It does not install on anything other than Windows 9x. Even then, it was written for the Japanese windows version and menu items are gibberish as a result. But it did work. I recently got given from work a Dell laptop running Windows 2000. I tried to get the camera to talk to the laptop and actually got it to work without any software. You just have to enable the IrDA port and send the pictures from the camera. W2K automatically creates a folder in "My Documents" with today's date & presto!. --Mark Janssen ([email protected])
Links:
Specs:
Camera section:

Signal output: NTSC color.
Imaging: 1/3 inch CCD (640x480)
Lens: 3x zoom, f=5.2-15.6mm, f=37-111mm, f=2.0-2.1 inner focus, with macro mode.
Auto white balance.
Coding: JPEG.
Auto flash (0.8-5m).
Shutter speed: auto (1/30-1/1000s), manual (1/4-1/4000s).
Storage capacity 2000 pictures (standard), 1000 pictures (fine), or 365 pictures + 40 minutes audio.

Audio section:

ATRAC audio.
2-20kHz +/-3dB.

Display size: 2.5inch TFT (280 dots x 220 lines).
I/O terminals: AV output: minijackx1, digital i/o: RS-232C (minijack),
Infrared: IrDA 1.1 (9.6Kbps-1.152Mbps).
Power: external pwr jack: DC 8.4V, AC power adapter.
Battery life: picture taking: 60 minutes, picture display: 85 minutes.
Audio recording: 105 minutes.
Recharge time: 130 minutes.
Reviews: