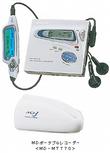 (1614x1638)






(1024x768)






MD-MT770 vs. MZ-R909 thickness


Photos: Japan-Direct


Photo: MDMan.net (1024x768)

Photo taken at IFA Berlin
Sharp MD-MT770
Sharp MD-MT888
Portable MD recorder
Intro: 8/2001
MSRP: ``Open''
Availability:

IN: mic, line, optical, DC 1.5-2V
OUT: headphone
71.9Dx78.9Wx15.7H mm, 128g w/batt, 103g body only
Features: World's smallest portable as of Aug. 2001. MDLP capable, 2-line LCD, full editing and titling from remote. Unique group mode functions: "group move" moves track to new group, "group top move" makes entire group the first group on the disc, "group erase" removes all tracks within a group, "group booking" creates a group and places newly recorded tracks there, "group arrange" moves tracks not in any group to the end of the disc so that even machines that don't support group function will play the tracks in the same order.(?) Three color blinking LED signalling system indicates recording type (SP/LP2/LP4), state of charge, and operating mode. Optional AD-PCR3 connecting kit features USB to digital optical link as well as control of editing and titling from PC. High speed (2X) playback of monaural (SP) recordings, digital/line/mic-synchro start, auto time-mark (3/5/10 minute interval), character stamp, one-touch eject, digital and analog recording level control (no AGC).
Variants: Unit badged the MD-MT888 in Europe
Included Accessories: LCD remote control, AA dry cell case, headphone, charge stand, NiMH rechargeable cell (with case), carrying case, AC adaptor, connecting cord, Manual.
Notes: Display on main unit does not show disc or track names, only the track number, hence titling can only be done from remote.
Reviews:
Links:
Specs: Headphone amp: 5mW+5mW into 32 ohms, line: 250mV into 10K ohms.
User Manual: MD-MT888
Battery Life
(SP/LP2/LP4)
Play
Record
Recharge
NiMH
13.5/16/18.5 hr
8/11/14 hr
90%: 3 hr, full: 5 hr
AA x 1
20/25/29 hr
9/14/19.5 hr
Both
35/42.5/49 hr
19/27.5/36.5 hr