| | | |
| --- | --- | --- |
| | Current page: 17 | |
To check the remaining disc time
While recording, you can check the remaining time available on the disc.
Press the DISPLAY button while recording or while in the recording pause mode.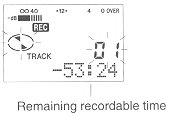 When the DISPLAY button is pressed again, the unit will return to the initial display.
Note:
The display of the remaining disc time may vary slightly from the actual remaining time. (Page 38)
To create your own track numbers while recording
You can create your own track numbers at special points in a recording, so that these points can easily be found later.
At any point where you want to create a track number while recording, press the REC button on the main unit or the BASS button on the remote control unit.

The track number will be written on the disc and the recording will continue uninterrupted.
Double time recording in monaural mode
When recording in the monaural long-play mode, recordings will be approximately twice as long as the recording time available for a stereo recording. The monaural long-play mode is very useful for recording conferences or lectures.
Press the MODE/INS button while the recording is paused.
Each time this button is pressed, the display will switch between the stereo mode and the monaural long-play mode.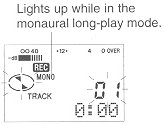 Notes:
If input is from a stereo source, the sounds from the left and right channels will be combined.
Although the monitor sound you hear in the headphones while recording is in stereo, recording will be monaural.
MiniDiscs recorded in the monaural long-play mode cannot be played on other MD players.
When a recording is made in the monaural long-play mode, you will be able to play back the MiniDisc twice as fast as the normal playback speed. (Page 24)
When the unit is stopped after a recording has been made in the monaural long-play mode, the recording mode will return to the stereo mode automatically.
| | | |
| --- | --- | --- |
| | Current page: 17 | |