Battery Pack Longevity Test: NH-14WM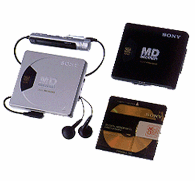 The MZ-E55
Howard Jow tests the battery life of the NH-14WM after more than a year of everyday use
I have used my MiniDisc player for about 3 hours a day (on average) for one year. Toward the end of 1999 I started noticing slightly less battery life on my two NH-14WM gumpack batteries. I decided to test the battery life of one of my gumpacks. I used a 90 minute 27 second MiniDisc for the test (some tracks are in mono of course). I would play through the entire disc once and mark a tally. Then, I would play the entire disc again (btw, I am sick of this disc by now). In contrast to my previous test of this battery in which it lasted 9 hours and 46 minutes, the battery life was now only 8 hours 2 minutes. Even though the battery life of the NH-14WM is still long, the loss of over one hour of playback time is noticeable.

The NH-14WM super high capacity gumpack battery
I still recommend the battery despite its slight memory loss. It is fairly cheap to order online from various stores listed on the MiniDisc Community Page. However, it may be necessary to present this article to anyone who believes NH-14WM batteries suffer no capacity loss over the long term.
7th February 2000 - Howard Jow
---