Battery Pack Review: NH-9WM vs NH-14WM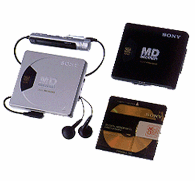 The MZ-E55
Howard Jow compares the standard NH-9WM battery pack with the longer-life NH-14WM and is only slightly impressed
Recently, I purchased a MZ-E55 with two extra NH-14WM gumpacks. I needed the long battery life for travel, long hours of programming, and the ability to have at least two fully charged gumpacks at all times. I expected a dramatic increase in battery life when using the NH-14WM compared with the NH-9WM. The NH-9WM is tested to last for 7.5 hours. It takes one hour to fully recharge the gumpack. The NH-14WM seemed like it would last for more than ten hours after a fully recharge. I ran the test on one MiniDisc which I kept repeating until the battery died. I kept tallies of the number of times the MD was played. When the battery finally died, I had recorded 9 hours and 46 minutes of playing time on the NH-14WM. This is approximately 2 hours more than the NH-9WM; however, it was not the improvement I anticipated.

The NH-14WM super high capacity gumpack battery
For those of you thinking of buying an extra battery with your new Sony MD player, I would highly recommend purchasing an additional high capacity NH-14WM. You probably do not need two extra batteries unless you want to be able to listen to your MD player for more than 24 hours with all of your gumpacks combined.
19 January 1999 - Howard Jow
---