AIWA'S PORTABLE MD PLAYER SETS NEW WORLD STANDARDS FOR FASTEST PLAYBACK START, LONGEST CONTINUOUS PLAYBACK
"AM-HX400"
The design and specifications of this model are just for
Japanese market only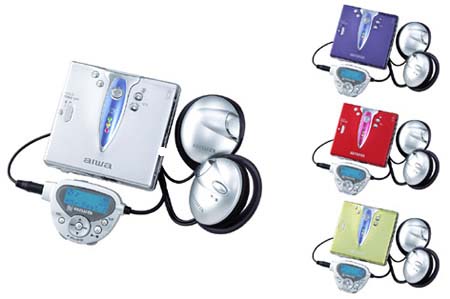 TOKYO - Aiwa Co., Ltd. has introduced the AM-HX400, a portable MD player that not only starts playing back in just about 0.6 seconds*1 after pushing the button - the fastest time in the world - but also features the world's longest continuous playback of about 165 hours*2.
*1: Excluding inserting the disc.
*2: For all portable MD players as of November 1, 2001.
World's first - playback starts in about 0.6 seconds.
Aiwa uses a new system that always reads then stores music data in the main unit's memory when an MD is inserted, irrespective of whether the power is on or off. This reduces the time from pushing the button to playback to 0.6 seconds, about one-sixth the conventional time,* by eliminating the data-reading time when playback starts. Users can enjoy the convenience of listening to their favorite music almost immediately. (*Comparison with Aiwa's AM-HX100 with disc in and power off.)
World's longest continuous playback - about 165 hours.
The AM-HX400 is an excellent power-saving model thanks to Aiwa's efforts to ensure greater efficiency in reading digital signals, for more precise micro computer control, and in reexamining the power supply circuit. The unit can play back continuously for about 165 hours with both the supplied rechargeable battery and one AA alkaline [LR6] battery (with power save mode on and playing back in LP4 mode).
For a portable MD player, the AM-HX400 also offers a greater variety of features, such as MD Long Play (MDLP) mode and MD Group function; a battery charger stand for simple recharging by just placing the unit on it; clip-type headphone with remote control that users can operate near their ear to play back or stop playing an MD; new track name search function that reorders the track names in kana order, and allows users to select tracks while viewing these names on the LCD remote control unit; new sentence repeat function, which is convenient for playing back MDs for language study (auto/manual changeable); and 25-track program function that lets users listen to their favorite music in a preferred order. This function-filled unit targets teenagers and those in their 20s - the main users of portable MD players.
Model: AM-HX400
Suggested retail price: ¥26,500 (excluding tax)
Initial launch: December 1
Production volume: 7,000 units (initial monthly production)
Main Features
The fastest playback start in the world - about 0.6 seconds
The world's longest continuous playback - about 165 hours
MD Long Play (MDLP) function plays back in stereo for a longer time in 4x and 2x speeds.
MDs recorded in MDLP standard (LP4/LP2) can be played back.
Group function
The AM-HX400 can recognize all the tracks selected by the user as a group and play them back together.
Clip-type headphones with remote control near the ear
Users can play back or stop an MD with the remote control on the housing of the clip-type headphones. This is very convenient, allowing users to operate the MD player just by touching the remote control near their ear in crowded trains.
Battery charger stand simplifies charging: Users merely place the unit on the stand to charge the batteries.
New track search function
New track search function allows users to view titles on the remote control unit's LCD panel and select their desired song. This new function also displays the titles in Japanese kana and alphanumeric order to facilitate the search.
New sentence repeat function is convenient for playing back MDs while studying languages.
The function repeatedly plays back a sentence in between silent portions that are longer than 0.5 seconds up to nine times. With the new function, users can select either manual repeat that repeats only the part they want to hear, or auto repeat that automatically repeats it. In addition, the memory function starts to replay the part previously stopped at, even if the disc is changed.
Power-saving function extends battery life.
When the power-saving function is turned to power save ON, the remote control's LCD is switched off to extend the battery life when playing an MD.
40-second/80-second (LP2)/160-second (LP4) skip-preventing memory eliminates skips caused by shocks and vibration.
Remote control unit LCD with 10-character display and joy dial
The remote control unit's LCD makes it easy to read the disc title, track name and number, plus three-step battery level, and monitor the AM-HX400's operation status, even in the dark. The remote control unit can also be attached to clothing with its clip.
One-action MD eject function for easy removal
Just slide the OPEN knob to open the lid and eject an MD.
Auto play function automatically plays an MD when it is inserted in the unit.
Three-step Dynamic Super Linear (DSL) bass ensures natural reproduction of low-frequency sounds.
Convenient alarm functions
The alarm is programmable from 1 minute up to 180 minutes, with a duration of up to 30 seconds. This convenient feature reminds users when their bus or train stop is coming up, or can help time workouts.
Resume function allows playback to continue from where it was stopped.
25-track programming lets users enjoy their favorite selections in the order they want.
Repeat (one program/all programs) playback/random playback
Ear guard function avoids sudden surges in the sound level.
Silver, blue, red, and green colors are available.

Channels

2 stereo/1 monaural

D/A converter

1 bit

Frequency range

20-20,000Hz,±1dB (with 10 kohm load)

Output terminals

Headphone jack (stereo mini)

Max. output

3.8mW per channel (load impedance 32 ohms)

Power source

1.2VDC nickel-hydrogen rechargeable battery, 1.5VDC AA alkaline [LR6] battery x 1 (uses supplied battery case), household current 100VAC (uses supplied AC adapter, charger stand)

Battery life (approx.)
Playback in SP, LP2, LP4 modes, respectively

With power save ON:
Rechargeable battery: 34 hours, 46 hours, 60 hours
Alkaline battery: 56 hours, 80 hours, 100 hours
Rechargeable battery + alkaline battery: 90 hours, 129 hours, 165 hours
With power save OFF:
Rechargeable battery: 28 hours, 33 hours, 36 hours
Alkaline battery: 45 hours, 55 hours, 63 hours
Rechargeable battery + alkaline battery: 72 hours, 90 hours, 98 hours

Full charging time

Approx. 210 minutes

Dimensions

Approx. 77.9W x 73.4D x 13.8H (mm) (excluding protrusions)

Weight

Approx. 89g (including rechargeable battery/excluding battery case)

Accessories

Battery charger stand, AC adapter, nickel-hydrogen rechargeable battery, LCD remote control unit, clip-type headphones, battery case, rechargeable battery carrying case, carrying pouch

The design and specifications of this model are just for
Japanese market only
Copyright (C) 2001 AIWA CO.,LTD. All rights reserved.