---

The 82nd times:New compression format "ATRAC3plus" for the low bit rate of Sony is tested.
Network Walkman "NW-MS70D" which corresponded from Sony to MagicGate memory stick Duo was announced on December 10. This feature in "NW-MS70D" is to correspond to new audio compression technology "ATRAC3plus" besides the design.
In whom is the sounds better than ATRAC3 with this ATRAC3plus? I wonder whether encoded what will become what frequency element actually. [It] immediately checked it.
---
- ATRAC3plus specialized to record for a long time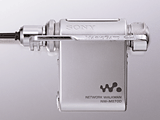 NW-MS70D
Sony announced the network Walkman and NW-MS70D of a new style on December 10. In this network Walkman which supports memory stick Duo for MagicGate, being able to collect the music data of a long time to a built-in memory very compactly is a selling point.
As many as about 11 CD, and the technology of "ATRAC3plus" equipped with gripping the key though about 11 hours can be collected in a built-in memory of 256MB. This ATRAC3plus is abbreviation of "Adaptive Transform Acoustic Coding3 plus", and the audio compression is formatted by the further development of ATRAC3. It is said that length or more time and a highly accurate voice signal are analyzed compared with past ATRAC3, and a newly developed algorithm by which the best bit distribution and the encoding method are decided to all the voice signals is introduced. As a result, it is assumed that a high compression rate of about 1/20 of CD was achieved at the same time while keeping the high pitched sound quality.
Therefore, though the data of a long time of as many as CD11 piece every 256MB is put by using the mode of 48kbps of ATRAC3plus; *** As for indeed 48kbps, I feel tone quality for a moment <how much one> the doubt.; Moreover, 64kbps in addition to 48kbps exists in ATRAC3plus, too and the bit rate of ATRAC3plus is these 2 kinds.
There are three kinds, and 64kbps of ATRAC3plus of 66kbps, 105kbps, and 132kbps becomes a bit rate of the very neighborhood to 66kbps of ATRAC3 for ATARC3. When this two are compared, the point difference of how much tone quality there is is anxious, too.
It is likely to only have to just think the relation between ATRAC3 and ATRAC3plus to be the one such as MP3 and mp3PRO. However, such interchangeability is not between ATRAC3 and ATRAC3plus though mp3PRO was compatible to use MP3. Therefore, you seem to be allowed to think a technical relation to be another format basically between ATRAC3 and ATRAC3plus even in case of being.
---
- Does the tone quality difference between 64kbps and 48kbps :?
*** Then, this ATRAC3plus will experiment immediately <what sound>.
Having used it to experiment at this time is software named SonicStage Ver.1.5 which Sony has put out. [It] is not put on the market alone to our regret though [it] is (*bandoru*)ed to the Sony product including bio-. Then, MG memory stick reader/writer's MSAC-US20 decided to be bought with the cheap product of the (*bandoru*) of SonicStage Ver.1.5 at this time, and use it.
The experiment method uses the same method as the current use by a series of audio compression format such as MP3. It is possible to have done concretely because of the sign wave of 120 seconds into which the tune named musician named TINGARA Vol de nuit continuously changes from 20 to 22.05kHz at the beginning for 45 seconds in the part, and three total of data which generates (*suiipudeita*) of -10 the dB and the sign wave of 1kHz with -10 the dB is encoded by each bit rate, and the result is analyzed in Spectrum.
This can accept only the wav data though this uses WaveSpectra of the Mr. efu production for this Spectrum analysis. Then, the sound by which the data of ATRAC3plus was reproduced was used by using SonicStage and the means of preserving the capture doing and it with software named Total Recorder as wav file was used.
First of all, let's see from the result in comprehensible tune data of Vol de nuit in the sight. [It] goes out only to the sound of about 14kHz by about 16kHz in 64kbps of ATRAC3plus in 48kbps while the original which reproduces directly has gone out of CD up to 22.05kHz. Actually, when the sound is heard, the clear do subfusc concerning the original or [it] becomes a sound which the outline does not (*hakkiri*) it. 48kbps of the tendency is more remarkable than 64kbps. It might be connected with this that a high region does not go out still.
On the other hand, when (*suiipudeita*) is tried, it is understood that the sound has been emitted up to the frequency that 64kbps and 48kbps of ATRAC3plus are firmly highest both. In a word, a simple low-pass filter etc. seem not to be used.
*** A considerably beautiful both shape of waves when an element different from originally <て> sees by 1kHz and only in any though does not know whether, and the overtone element is extremely few, and [it] seems not to exist even if [it] distorts.
Tune data comparison
Original
ATRAC3plus 64kbps
ATRAC3plus 48kbps
(*suiipudeita*) comparison
ATRAC3plus 64kbps
ATRAC3plus 48kbps
Sign wave comparisons of 1kHz
ATRAC3plus 64kbps
ATRAC3plus 48kbps
---
- Tone quality comparison between ATRAC3 and ATRAC3plus
Anxious is ATRAC3 and a difference above though the result of ATRAC3plus.
Here, it is necessary to apologize. It has been understood to have found a big mistake in the result in でで(unknown word) and former ATRAC3 while experimenting on ATRAC3plus at this time.
The one which was very near, and [it] reported that it was just like sound in the original since [it] compressed it with 132kbps of ATRAC3 before. However, it turned out this was for that to give priority as long as original data was not deleted from HDD even if [it] changed it into ATRAC3 by the specification of "OpenMG Jukebox" and to have reproduced.
When having tried, the mistake (*hakkiri*)ed it OpenMG Jukebox noticing it was amusing, and again when converting it into 132kbps of ATRAC3 by using SonicStage this time.
[It] apologizes because [it] renews here and the result in 132kbps, 105kbps, and 66kbps is published both then. Moreover, this was not a sound when listening to the sound of 132kbps of ATRAC3 again by the evaluation before. Certainly, the difference with the original is obviously understood in having compared all of two bit rates of three bit rates of ATRAC3 and ATARAC3plus though a good sound.
Tune data comparison
ATRAC3 132kbps
ATRAC3 105kbps
ATRAC3 66kbps
Well, then how when ATRAC3 is compared with ATRAC3plus?When 66kbps of ATRAC3 is looked in the graph and compared by me with 64kbps of ATRAC3plus, I feel ATRAC3plus like the sound of which you can have gone out a high region. However, when I heard the sound in 実(unknown word), I felt either like either. 66kbps of ATARC3 personally had a near impression in the original though this vicinity might be a problem of the favor. Moreover, the difference as thought is not, and hurried fights bravely though is sure to have dropped from 64kbps to 48kbps of ATARC3plus tone quality.
Comparison of tune data of ATARC3plus64kbps and ATRAC366kbps
Original
ATRAC3plus 64kbps
ATRAC3 66kbps
ATRAC3plus is not recommended to be used if [it] values it anyway tone quality if [it] thinks about this overall. However, if the tone quality of about MP3 is a level of listening with the portable machine while commuting because [it] keeps and (*S) does, it might be enough also in 48kbps of ATRAC3plus.
WMA and mp3PRO, etc. are included, and it seems to compete to emit a hurried sound by a lower bit rate recently. However, now since making the Broad strap making and memory a large capacity advances, such a flow personally thinks it might be really necessary. Because ATRAC3plus has not been adopted for the Sony product for Net MD more general, where [it] spreads is an unknown number. *** I want to gaze at the format of the music of the low bit rate in the future very much <whether supported>.
- Home page of Sony
http://www.sony.co.jp/
- News release (NW-MS70D)
http://www.sony.jp/CorporateCruise/Press/200212/02-1210/
- Product information (NW-MS70D)
http://www.walkman.sony.co.jp/news/ms70d.html
- Product information (MSAC-US20)
http://www.sony.co.jp/Products/mssupport/adapter/msac_us20.html
- Related article
【 ten December 】 Sony is new network Walkman for memory stick Duo.
--[It] corresponds to new codec "ATRAC3plus" which improves the compression rate.
http://www.watch.impress.co.jp/av/docs/20021210/sony.htm
【28 January 】 【DAL】 The compression music formats are compared.
*** The -1:"ATRAC3" <audio compression method> - of Sony
http://www.watch.impress.co.jp/av/docs/20020128/dal42.htm
(December 16, 2002)
---
= of Takeshi = Fujimoto
Writer and editor. MIDI, audio, and the article related to the recording are mainly written working for a certain big publisher. Knowledge in the system surroundings is still deep because it is involved in development, the MIDI interface of the sequence software, and the development of the sound source for the personal computer before. A recent book includes "(*za*) best reference book Cubase VST for Windows" and "Sound Blaster Live music use manual" (both (*rittohmyuujikk*)), etc.Moreover, DTM digital guide in charge of the recording of All About Japan also works.
---
---
---