Utility for MiniDisc titling
TitleMD is a utility for MiniDisc titling.
The program TitleMD (v. 2.0) is freeware, and the writers are:

If you modify (upgrade) this program, please send me your version.

TitleMD is tested on MDS-JE500, but I think that it will work on most Sony MD Decks.
Features:
(+) Runs on every PC
(-) Requires external electrical device (38kHz generator). Construction information below.
(-) Runs only under MS-DOS (not from Windows95 or Windows NT - there is timing problem).
(+) Titling is done in batch mode (Disc and songs titles are read from text file and sent to MD).
(+) All alphabetical characters, numbers and symbols work.
Version 2.0 uses advanced 20 bit codes (from remote keyboard RM-D10P), so all symbols (@,#,$,%,&,*, ...) are available and titling is faster.
(+) (Important only for Czech Language) Support for Czech language Code Pages (Latin2, Kamenicky, Win1250)
Hardware:
I can do hardware part for you. If you want it, then send me a mail.
Interface block diagram:
PC - LPT_Port -> Generator 38kHz (of TTL signal) -> Infra LED ~-~-~-~-~-> MiniDisc
Detail wiring diagram of generator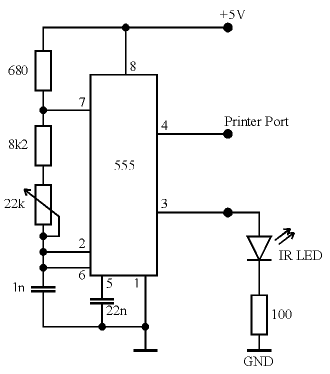 "+5V" connect to keyboard connector (pin 5).
"GND" connect to keyboard connector (pin 4).
"Printer Port" connect to printer port connector (pin 2).
For 38kHz set adjustable resistor 22k to 10.5k.
Values of resistors 680, 8k2, 10.5k (adj. 22k) and capacitor 1n are critical.
Notices:
Frequency of generator must be between 35kHz and 40kHz (38kHz is ideal value)
You can connect a printer and this device to the same LPT port (TitleMD doesn't affect printer)
Generator needs a supply voltage 5V. I Am using Keyboard connector for supplying generator (keyboard is connected to this connector too).
Generator is driven by TTL output from LPT port:
if (LPT_port_Out = 0) then Generator_Out = 0
if (LPT_port_Out = 1) then Generator_Out = 10101010.... (f=38kHz)
Software:
Download executable
TMD_exe.ZIP (17kB) contain:
TitleMD.exe - executable program
TitleMD.ini - ini file
Queen.txt - sample file with song titles
Readme.txt - documentation
Gener.gif - wiring diagram of generator
Run TitleMD utility only from MS-DOS (or MS-DOS mode in Windows 95)
Configure TitleMD
You can configure TitleMD by editing Ini-file "TitleMD.Ini".
You can change these parameters:
PortLPT=xxx - decimal address of LPT Port
CSCodePage -important only for Czech language
UseKeybRemoteCodes (1 : advanced 20 bit IR codes are allowed; 0 : only standard 12 bit IR codes (as version 1.0))
Use 0 only when your MD doesn't support keyboard remote RM-D10P.
xxxxDelay - these parameters affect speed of titling
if you decrease them, then program may stop working,
if you increase them, then program will run slowly, but safely.
Download source
TMD_src.ZIP (9kB) contain source files in Borlan Pascal 7.0 (for DOS):
TitleMD.pas - main program
MDChars.pas - unit for sending strings to MD (using 12 bit IR Codes)
MDChars2.pas - unit for sending strings to MD (using 20 bit IR Codes)
InfraRed.pas - unit for sending IR codes to MD
CS_Conv.pas - support for Czech code pages
TitleMD.ini - default ini file
Using of TitleMD:
Create text file with titles of disc and songs in this format:


       <MiniDisc Title>
         [1)] <Title of 1. track>
         [2)] <Title of 2. track>
         [3)] <Title of 3. track>
         ...
     

Empty lines and lines started with ; are comments (ignored).
Example:


       Queen - Made In Heaven
        1) It's A Beautiful Day
        2) Made In Heaven
        3) Let Me Live
        4) Mother Love
        

Insert (unprotected) MD to MiniDisc Deck
Erase all titles on Your MD
Press Stop on Your MiniDisc Deck
Place IR-LED ahead of MiniDisc Deck
Run TitleMD (from DOS) with file created in (1) as parameter.
Example:


        TitleMD Queen.txt
      

You can stop this program by pressing <Esc>.
---