Sony MZ-R700 User Review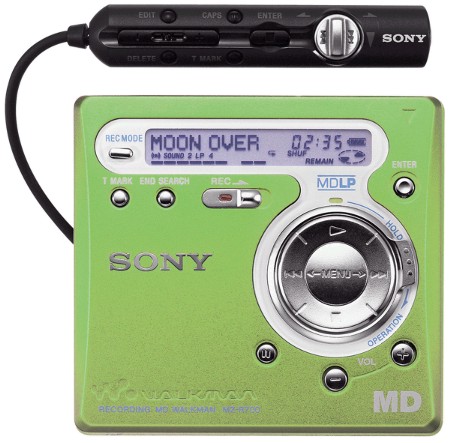 Niels Pijck
[email protected]
Amsterdam
May, 2001
I am a MiniDisc and Sony fanatic and when my faithful MZ-R30 started to show some problems (minor problems, but 99.9% isn't good enough!), I decided to buy a new portable recorder. I knew someone at a local store and he could get me a MZ-Rx00 for a very low price. I chose the Sony MZ-R700, because it has the best price-quality balance for me: the R500 looks a bit stripped and the R900 just was too expensive. The R700 is to the R900 as the R70 is to the R90. Just as with the R70, the R700 is also available with a USB-based PC connecting kit (the ones from MiniDisco work okay too btw!). Of course the R700 has a lot more features than the R70.
The unit is small and looks very "cuddly" (the best word is "aaibaar" in Dutch, which means something like "caress-able"). It is just another one of the jewels that the Sony-people designed (well, I think so anyway). Though, it has a strange bump on the back (outer battery casing), which makes the unit a bit bigger than older, earlier units, but this is a feature that I actually like, because now I can read the display while sitting in front of the unit. Above all I like that the unit runs on LR6-type (i.e. AA) batteries. I hate it when my battery runs out and I have forgotten my dry battery case for the R30.
Okay, I'm not going to talk about the specs, because they are all over the web. I will just take a few features that are important to me when using the unit and talk about those... just to give you an impression.
Features that I think are great:
The stamina - very good, high performance for a very long time. Not really as long as Sony wants you to believe, but close.
User-friendly - The unit is easy to use, a clear menu, easy button to record in LP2 or LP4 (or mono). The R30 was easier to use, but with all the new features, I think the menu is a good solution.
Pop-up mechanism - The disc just pops out, easy when you really only have one hand available to get it out...
MIC-in - the R500 has no MIC-in. A MIC-in is really a MUST. You see, when I am in a college room in Amsterdam, and the sun is shining, and I really need a cool beer (hehe, we can from the day we turn 16) and I don't want to write down my notes, I just record the stuff and lean back till I can leave and find a nice bar by the water. Can you see the advantages?
MDLP - speaks for itself; LP2 is great: just like the memory-stick (MP3), it uses ATRAC3 and sounds very well (almost perfect)! Now I can put a whole 2.5 hour mix of the Ministry of Sound (London) on one disc! !BUT! LP4 is very bad (like an MP3 that is recorded with a low bitrate). Only use that for speech!
Size - it is of course very small and light, so it fits into your jeans-pocket, chest pocket, etc. And with the supplied carrying case, it is very easy to clip on your belt and have it be well protected against scratching and other damage. If these units get any smaller, it is going to be hard to use them and they will become too vulnerable. This is about the right size, I think (although I love the MS walkmans).
Features it lacks:
Date-time stamp: I don't miss it, but it can be handy for voice-recordings (of a meeting or college-notes)...
Line-out: Well, that's very bad: no line out!! That was a big disappointment. I have to say that the headphone out has great sound, but for recording, you would have to set the bass boost to 0.
Remote, JOG and backlit display - There is no display on the remote and the one on the unit is not "backlit", but I don't really need that (it would have been nice though). The display shows everything you need. There is a JOGlever on the remote, for easier titling. That makes up for the lack of a JOGdial. I miss that. My old R30 had that and I loved it. The feature that I miss the most is the possibility of my R30 to scroll through the contents of the disc while playing.
Full metal casing - the back is made of very hard plastic.
Although I named a few "Lackings", the unit is really great and lives up to my high expectations of Sony (MD) Equipment. I just was a bit spoiled with the R30, as a Sony technician once told me. He also told me that the R30, R35 and R50 are the best units Sony has produced till now. However, I write pieces for a rather well visited Dutch MD-page (see below) and use my equipment very often, and so I just wanted the best and the newest for the money I could spend. And I'm glad I did: I think it is beautiful, it does everything I want it to do and is easy to use (I am a "Dj" here in Holland and use the unit every day for a couple of hours: listen to new music, to record my performance, use jingles, make college-notes, make loops, etc.). It is a portable recording studio and HiFi-component in one small unit!
So if you can afford an R900 class machine, and don't have the money for the very expensive R900, but enough for the R700, it would buy it! NOT the R500, which does not feel very solid. Overall impression: Great(er) looking, good (better) performing, but it misses the "overall quality- feel" of the older units (R30/R50).
But remember, I always say (freely after Scotty from Star Trek): "The first MD-unit you own is like the first woman you love. You will never love a woman quite like that again."
The R700 is supplied in Holland / Europe with:
AC adapter
Carrying case
Optical digital cord
In-ear headphones
Rechargeable battery
Carrying case (small) for one AA-size battery
Niels Pijck's Dutch MiniDisc Page
---