Sony MZ-F40 Review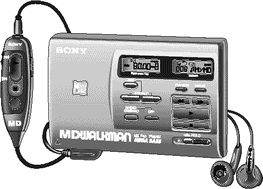 Roger Williams
[email protected]
1998/08/19
Recently, someone started a thread on the Sony MZ-F40 MD player/AM-FM tuner hybrid. I saw it described as a "sleeper", and that description would seem to be borne out by the fact that:
Sony's list price for this unit on their web page is $399.95
It's never been widely available on a retail level
It's been overshadowed by cheaper and more versatile player/recorder units like the Sharp 702 and Sony MZ-R30
At $399, almost everyone would balk at a Minidisc player with a tuner, and indeed, I did too. However, Netmarket has the MZ-F40 for sale at $209. It's shown up even cheaper on close out sales at places like Best Buy, but there aren't any Best Buy stores in New England, so I ordered it from Netmarket. The MZ-F40 supports, but does not come with, an optional AC adapter (AC-E45HG) and rechargeable nickel metal hydride battery (BP-DM20). Netmarket does *not* sell these items, but Crutchfield Online does. I ordered the MZ-F40 from Netmarket, and the battery and AC adapter from Crutchfield last Friday. Both arrived bright and early via UPS this morning (Tuesday). I've had all day to play with it, and here's my review...
First of all, the unit is medium sized. It's bigger than the MZ-R50, but not by that much. It's about the same dimensions as the MZ-R30, but a little bit lighter. It's colored matte grey with gold and white embossed lettering. It's has a top loading clamshell design. The controls for the tuner are on the hinged lid, while the MD controls are on the other side (opposite the battery compartment). Still, it feels a little bit bigger than it should. If this were to be redesigned today, it could probably be made a lot smaller (MZ-R50 or Sharp 702 sized).
A remote control and ear bud headphones are supplied. If you're thinking of plugging your favorite headphones into the remote, forget it - they're for minijack headphones only. However, normal headphones can still be used by unplugging the remote and putting them in the 1/8 headphone jack the plug for the remote uses. The remote has controls for both the Minidisc player and tuner. It's much easier to use the remote to control the MD player than the tuner, largely because the buttons that scan the preset stations are tiny, and on the side of the remote. There's also an annoying metal clip on the back instead of the more pleasant spring loaded clip on the MZ-R50. The ear buds are better than I expected, and to my ears, sound just as good as the headphones supplied with the MZ-R50.
The MZ-F40's tuner performs more than adequately. It has digital tuning, and has an automatic station preset feature that scans the AM and FM bands for stations it can lock in on, and creates presets for them in numerical order. You can, of course, reassign the presets to your own liking. Stations can be found and entered manually, or found by the seek feature. The reception in my area (metro Boston, MA) is pretty good. The "Local/DX FM" switch on the top side of the unit didn't seem to make any difference in signal quality for me, so I can't really comment on it. As noted earlier, the tuner has it's own LCD window, separate from the LCD window used for the MD player.
The Minidisc portion also performs well. It's sort of no-frills, but then again, not much more is needed. The usual Sony play mode options are here (repeat, repeat once, shuffle). The display options include autoscrolling disc and track name, and time elapsed. Oddly (and somewhat disappointingly), there is no time remaining display. The track name and battery status displays are always visible, no matter which display mode you choose. The unit uses the same buttons to skip tracks (press once) and fast forward/rewind (hold down the button). I don't mind this, although this drives some people crazy.
The sound is as good as the MZ-R50, and it also uses Sony ATRAC 4.0. It has a 10 second shock protection, which is less than the 40 second shock protection used by the MZ-R50 and MZ-E35, but it didn't have any problems during a jogging test, and it refuses to skip even when I shake it for 30 seconds. Not too bad.
The MZ-F40 is also duly equipped with a 3 way "mega bass" enhancement switch, and the ever baffling AVLS (automatic volume limiting system) switch. Curiously, the volume is controlled with a dial on the side, which makes it infuriatingly immune to the "hold" switch that disables other buttons (unlike the MZ-R50 which uses push buttons to control volume). However, this didn't prove to be too much of an obstacle. I walk about 10 miles a day, and I keep my portable MD player in the free carrying case I got from Sony when I bought my MZ-R50. The volume on the MZ-F40 behaved while in the carrying case, but it did shift while carrying it in my pocket. For the price Sony lists for this model, this seems like a definite oversight.
The MZ-F40 can offer about 6 hours of MD playback and 16 hours of tuner use with the rechargable battery pack. 2 "AA" batteries provide 8 hours of MD playback and 30 (!) hours of tuner playback. Fully recharging the rechargable battery takes about 3 hours (from a full discharge). You have to press the "stop" button to start the recharge, which I find a little odd. I can see forgetting to press stop, and wasting hours only to find you didn't recharge the battery.
All in all, I'm pleased with it. At $209, this is probably the best MD player only portable you can get. It's not even close to being worth $400, but at a deep discount, it's hard to beat. I hope to get some scans of it and put them up on the web since pictures of it are pretty hard to find. This unit is a real "sleeper", and had it been more realistically priced to begin with, it'd probably be more popular.
Summary
High points:
ATRAC 4.0
AM-FM tuner
Only $209
Well integrated tuner and MD controls

Low points:
Minijack only remote
Small buttons on remote
Not as small as it could be
Volume control dial instead of buttons

---