| | | |
| --- | --- | --- |
| | Current page: 36 | |
A MiniDisc is a disc inside a protective cartridge. You can handle it freely without worrying about dust, fingerprints, etc. However, if dust enters the opening of the cartridge, or there is excessive dirt on the cartridge, or the cartridge becomes warped, you may experience malfunctions. Please note the following.
Handling the MiniDisc
Do not touch the disc directly!
Do not open the shutter or touch the disc directly.
If the shutter is forced open, it may break.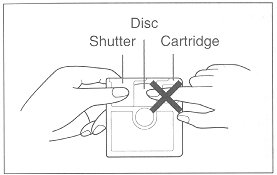 Never disassemble a MiniDisc.
Where not to store discs
Do not store discs in places with high temperatures or humidity. Specifically, do not leave discs in places exposed to direct sunlight or in cars with the doors and windows closed.
Do not leave discs in places where sand can get into the cartridge easily (e.g., beaches).
Helpful tip when attaching a label
When attaching a label to an MD cartridge, be sure to note the following. If the label is not attached properly, the MiniDisc may jam inside the unit and it may not be possible to remove it.
If the label peels off or partially lifts away, replace it with a new one.

Do not put a new label on top of an existing one.
Attach the label only in the specified location. (If it is not within the specified area, it may cause the disc to jam in the unit.)
Regular cleaning
If the surface of the cartridge becomes dusty or dirty, clean it with a dry cloth.
Moisture condensation
In the following cases, condensation may form inside the unit.
Shortly after turning on a heater.
When the unit is placed in a room where there is excessive steam or moisture.
When the unit is moved from a cool place to a warm place.
When the unit has condensation inside, the disc signals cannot be read, and the unit may not function properly.
If this happens, remove the disc. The condensation should evaporate in approximately 1 hour. The unit will then function properly.
| | | |
| --- | --- | --- |
| | Current page: 36 | |