| | | |
| --- | --- | --- |
| | Current page: 33 | |
CONVENIENT OPERATION FEATURES
Checking the remaining amount of battery charge
The remaining amount of battery charge is shown by the battery indicator (

) during operation.


< How to read the battery indicator >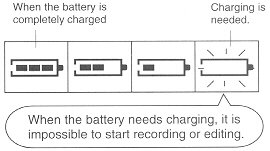 When the battery is completely discharged, the whole battery indicator will flash. Recharge the battery or replace the alkaline batteries with new ones.
When the battery has completely run out, "BATT EMPTY" (main unit) and "Lo BATT" (remote control unit) will appear. The power will be disconnected automatically.
Notes:
When the AC adaptor included with this unit or an optionally available car adaptor is used, the battery indicator will not be shown.
The number of bars shown in the battery indicator may increase or decrease, depending on the operation being performed. This is normal.
When the rechargeable battery and the alkaline batteries are used at the same time, the rechargeable battery is used first, and then the alkaline batteries.
Since the battery indicator shows the remaining amount of the particular battery being used, the number of bars will increase when the unit switches to the alkaline batteries.
To prevent the unit from being operated by mistake
To prevent accidental operation, use the hold function.

Move the HOLD switch to the safety position (direction indicated by the arrow).
When the unit is in the 'hold" mode, pressing the buttons will have no effect.

To cancel the hold mode, move the HOLD switch away from the safety position (the opposite direction of the arrow).
Remote
control unit
Main
unit
Can be operated from either the remote control unit or the main unit.
Cancel
Cancel
Can only be operated from the remote control unit.
Cancel
Hold
Can only be operated from the main unit.
Hold
Cancel
Cannot be operated from either the remote control unit or the main unit.
Hold
Hold
If the hold function is active while the power is turned off, the power cannot be turned on by mistake and the battery will not be accidentally drained.
| | | |
| --- | --- | --- |
| | Current page: 33 | |