Sony MZ-R5ST Quick Notes
(from the original Sony page)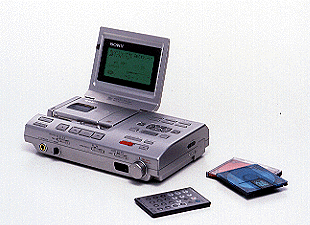 Intro 11/10/97, JPY 72,000 Monthly production: 10,000 units.
The portable is the same size as the R50 (109.5x20.1x77mm) but 5 grams lighter (185g vs. 190g). It's 80% the size of the R4ST portable.
"Wide Bit Stream". Appears to have 20 bit digital i/o. [Very sloppy translation, sorry:] ("The input/output circuits that until now have had 16 bit calculation accuracy have been improved to 20 bits, realizing wider dynamic range".) ("Wide bit stream is a technology that enables wider dynamic range recording and playback by increasing the core DSP used for ATRAC's dynamic range and the digital input and output as well as the ciruitry's audio data word length from 16 bits. The main unit's input and output have been increased to 20 bits. The calculation wordlength is enlarged. By using block floating, real 20 bit dynamic range recording and playback occurs. Small level sound's fidelity is increased, recording and playback with improved accuracy to the original signal is made possible.") Is this the first portable with block floating?
Edit point accuracy of 60ms with rehearsal mode.
2 second time machine recording.
Undo
3.5 hours record, 5.5 hours playback on LiIon, going to 8 rec, 16 playback when 2 AA cells are added.
Base unit has two optical in ports, one optical out, line in and out. Portable still has mic input only.
Digital synchro recording.
Sampling rate converter.
When used with base, Dynamic Range and S/N both >92dB analog, >96dB digital.
Stick controller remote.
Base has headphone as well as active speaker jack. Active speaker jack volume level can be controlled with I/R remote.
Sony also seems to have a set of active speakers that are about to be introduced, the SRS Z1000, for JPY25,000. Those, together with the R5ST and a portable CD player would give you a tidy little digital audio system.
---