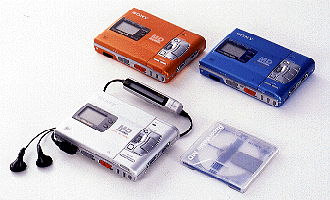 MZ-R50 (Japanese Edition) Mini Review
Christian Malcolm
As a past owner of an R3 and R30, I have to say this is the best version yet. All the benefits of the others with many new pluses:
Handy stick remote - just the right size (on which you can do everything that you could on the old remote as well as change play mode and display mode). Using it takes a little getting used to but I'm sure I'll manage. I've already had all sorts of looks from people on the Underground. The scrolling display will show - time elapsed (not time remaining), track title, MD title and time recorded (not date recorded). The rest of the display shows the track number (alternating with total tracks on the MD), the little flashing disk image, play mode, battery level, and REC for when you are recording.
Smaller, lighter. I was quite surprised just how much smaller and lighter it actually was when I took it out. Frankly I'm amazed.
Better button layout. All the playback related buttons (most used) are on the top in a happy cluster along with the titling buttons. More dangerous Erase, End Search and Track Mark buttons are on the front next to the REC button. The Erase button is even kept away from the rest by a little wall so you can 'feel' where it is. The REC light is now on the top above the cluster of playback buttons (more visible). The volume buttons are also on the top below the playback buttons. Very useful.
Proper mini-jack on the remote. No more micro plug stress.
The option of titling your tracks in Japanese. You're never to old learn another language. (Not available on Export Edition)
From what I remember my R30 used to give regular intermittent `clicky' sounds all the time when playing back. Well, the R50 seems to read the disc for ten seconds (where you hear very very quiet motor sounds) and then absolute silence for a full 40 seconds! Also, the spinning motor and tracking motor sound more `plasticky' to the R30 (very much my opinion and I'm not entirely sure I've used the best adjective).
The upper part of the 'clamshell' feels just a little bit more solid than the R30 (more like the R3).
And I for one am very happy with it all.

A few new features have occurred to me since writing my review.
Included with the R50 is an optical mini jack to optical TOSlink cable! 96cm long from tip to tip. No analogue cables, though. (Not available on Export Edition)
As you know, when you put an MD in and shut the lid, it takes a few seconds for the machine to read the TOC before it gets going with the first track. Well, if you are in a rush to record and you put a blank in, shut the lid, and press record right away, it will store that 7 seconds worth of music and actually record from when the record button was pushed (right after the door shut) and not from the point when the machine was ready to record (7 seconds later - after checking the TOC). I tested this a few times and it's brilliant - you don't have to wait for the machine to register the disc before it will record the data. It even works for an MD that's already got music on it. Just put the MD in, shut the door, press END SEARCH right away, quickly followed by REC and the machine will store music right away and stick it at the end of the disc.
When recording in battery mode, the motors are only active for about 10 seconds every 35 seconds (like in playback). If you stop recording while the machine is in one of it's quiet memory storing 35 second gaps, DATA SAVE will come on to the display before you see the familiar TOC EDIT.
When plugged in to a power source, the motors whirr constantly for both playing back and recording. After pressing stop, the display remains active and the sound is ready to start instantaneously for a good few minutes. In battery mode, this is for 10 seconds.
Several people asked me questions about the unit. Here are my answers (in the order received).
Can you please tell me whether the R50 has a date-time stamp feature?

Yes, just like the R30, it will note the exact time and date of each recording. (note: the remote will only display the time of recording)

"How noise-free is the headphone output?"

Here's a tricky one. I recorded 20 seconds of nothing (no mic or line source plugged in) and turned the volume to the maximum. Yes, in a quiet room, I heard hiss. As I never really listen to my MD with headphones on - at a high volume - in a quiet place, I had never noticed this before. I assume that this noise wouldn't be any less on the R30 or R3. I can assure you that this headphone hiss is not immediately noticeable (unless you are looking for it) but I couldn't say if it was any louder or quieter than the R30.

"I would like to know something about sound quality of the new recorder. Is it better than MZ-R 30? Which ATRAC does it use? Are there any new functions over than MZ-R 30?"

I can't say I can hear any difference in recording or playback quality compared to the R30 (but then, in a blind taste test, I can't tell the difference between MD and CD). I assume the ATRAC version is Sony 4.0 as I am unaware of any newer versions. As for new functions, every difference I have found is in my review.

"Do you know if I can get it in the U.S.?"

I don't know for sure but I highly doubt it. I read somewhere that it won't be available until well into next year. And then will there be an international version like the R30? Your guess is as good as mine.

"If I wanted a MD player now, should I just buy the R30 (the lowest I've seen it advertised in the U.S. is for $399)?"

Who am I to say. If it was me, I would weigh up the advantages of the new machine (listed in this review) with the disadvantages (6 dollars more, need to import it from Japan - possible tax and duty implications, and no real warranty cover - although it is covered in Japan for a few months I think). It is a sexy little machine, though, so I would go for the newer R50.

"... did you have to pay import duty/vat on your R50?? How much did it cost?"

Yes. 6 weeks after my machine arrived I received a bill from UPS for Import Customs Duty, Import VAT and an Ancillary Import Charge amounting to 78.55 ukp. I understand these charges are normally paid cash on delivery but as I wasn't here when it arrived, the bill has taken a few weeks to get to me. I don't really mind as this machine won't be available here for many months and it's a terrific bit of equipment.

"Was the price that Nic quoted all inclusive?"

Yes. The product and delivery by UPS Express.

"I would like to know if on the R50 you still have to push End Search before being able to record without overwriting your disc ?" Yes. I'm used to this now, though. I get the feeling Sony are doing this on purpose.
No one's asked but yes, Dolby get a mention on the back.
---