1997/9/11

New Sony MD Products
(original Sony Japan page)

Now on sale: 3 types of light and convenient MD portables that can be easily carried in a shirt pocket, one of which is the world's thinnest recording and playback unit.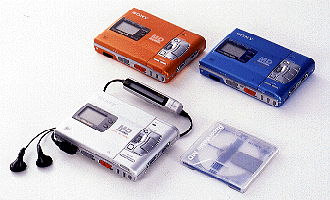 MD Walkman ``MZ-R50''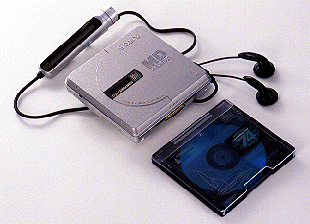 MD Walkman ``MZ-E35''



MD Walkman ``MZ-E25''


---

Sony is placing on sale 3 MD portables:
The MZ-R50, world's thinnest portable recorder, miniaturized to nearly the size of an MD player.
The MZ-E35, an MD jacket sized MD player that slips easily into a shirt's breast pocket.
The casual design MZ-E25, available in blue, orange and silver color variations.
The MZ-R50 and MZ-E35 are equipped with a 40 second shock guard memory, for more enjoyable outdoor use. With this, the makeup of portable MD products has been strengthened to 8 types of machines, allowing various ways to enjoy MD.
Name
Intro Date
Price
(not incl. tax)
Color
Initial
monthly production
Portable MiniDisc Recorder
``MD Walkman'' MZ-R50
10/10/97
JPY 48,000
Silver,
Blue,
Orange
50,000 units
Portable MiniDisc Player
``MD Walkman'' MZ-E35
10/10/97
JPY 40,000
Silver
25,000 units
Portable MiniDisc Player
``MD Walkman'' MZ-E25
10/10/97
JPY 34,000
Silver,
Blue,
Orange
50,000 units
Since 1996 the domestic MD market has met a period of real growth, and is anticipated to reach 5 million units in 1997, with portables accounting for 50% of the market. In particular, for ``system stereos'' [bookshelf systems], those equipped with MD decks account for 65% of the units sold, and 80% of the revenue. This is expected to magnify the importance of carry along portables. (per Sony's survey)
The MZ-R50 now going on sale is equipped with a newly developed Lithium Ion rechargeable battery and a thinner optical block and deck mechanism, through which a thickness of 19.7mm and a weight of 190g has been achieved (at approximately 70% the volume of the previous ``MZ-R30'' model), allowing handy, on the go recording and playback enjoyment.
For use as one likes, the unit is equipped with a 16 megabit DRAM, providing approximately 40 seconds of shock guard memory (4 times the previous model), making it completely appropriate for outdoor use. Furthermore, by reducing power consumption to approximately 59% (recording) and 64% (playback) of the previous model, 12 hours recording and 22 hours playback is possible on the included LiIon cell together with 2 alkaline AA cells. In terms of operation, the vertical style jog dial allows MD editing and character input to be carried out easily.
The MZ-E35, in an ``MD Jacket'' form factor with improved portability, has been reduced 25% in thickness compared to the previous model (``MZ-E30''). The main body's upper surface is diecast magnesium, improving strength and giving a high quality feel. By equipping it with a 40 second shock guard memory, vibration resistance has been improved. And, as successor to the previous model's 1.5V drive, a design that further reduces power consumption has been developed, allowing 6 hours playback on the internal gum pack rechargeable, or 8 hours on a single AA cell, an improvement by a factor of approximately 1.5 over the previous design, making 16 hours of playback possible when both cells are used together. By equipping the operation panel with a ``hold shutter'', already well known on cassette walkmans, accidental operation while in a pocket or bag is prevented.
The MZ-E25 is a casual design MD walkman available in silver, as well as blue and orange color variations. Its 1.5V drive works with either a single AA drycell or gum pack rechargeable, and the battery compartment's design allows either type of battery to be used. This makes an external battery case unnecessary and increases convenience and portability.
The 3 units going on sale include a newly developed LCD ``Stick Controller'' type remote control. Using the ``Shuttle Dial'' on the upper part of the remote control, MD operations such as playback, track selection, pause, etc., can be conducted even with one hand. With its stick type slim design, it looks smart even attached to a breast pocket or bag.
[The original page then goes on to repeat most of what is said above, or what is obvious, with a few additions, shown below]
``MZ-E35'' main characteristics
5. Convenient ``push type'' open button

With consideration given to ease of use, a push type open button has been placed on the front surface of the unit.



6. Main unit equipped with small type LCD

Not just on the remote, the main body is also equipped with a small type LCD, allowing operating mode, track number and battery level to be confirmed.
Characteristics common to all 3 units
1. Newly developed LCD ``Stick Controller'' type remote control included

By pinching and pushing the shuttle dial, the ``Stick Controller'' allows MD playback, pause, and track seek operations to be carried out. On the LCD, the operating mode, song name, disc name, etc., can be confirmed.
... With it's aligator clip it can be easily attached and removed.
The headphone connection part is equipped with a normal stereo mini-jack, allowing you to also [honorably] use HiFi audio headphones.
Main Specifications
MZ-R50
MZ-E35
MZ-E25
Conformance
MiniDisc Digital Audio System
Playback System
Magneto Optical Readout
Channels
Stereo 2 channels, Monaural 1 channel
Sampling Rate
44.1kHz
Audio Compression System
ATRAC (Adaptive TRansform Acoustic Coding)
Frequency Response
20-20,000Hz+/-3dB
Wow and Flutter
Below measurable limits
Input Terminals
Mic:
stereo minijack
Line:
stereo minijack (analog)
optical minijack (digital)
DC IN jack*
*connects through drycell case
DC IN Jack
Output Terminals
Headphone:
stereo minijack
Line:
stereo minijack
Headphone:stereo minijack
Outer Dimensions
*including largest protrusions
approx 109.5x19.7x77mm
(width x height x depth)
approx 82.5x19.1x80mm
(width x height x depth)
approx 102x17.2x75mm
(width x height x depth)
Weight (body only)
approx 190g
approx 115g
approx 130g
Weight (ready to use)
approx 240g (including recordable disc, rechargeable LiIon battery)
approx 155g (including pre-recorded disc, rechargeable NiMH battery)
approx 170g (including pre-recorded disc, rechargeable NiMH battery)
Included Accessories
LCD remote w/headphones(1), AC power adapter(1), rechargeable Lithium Ion battery(1), drycell case(1), carrying pouch(1), ear attachment(1)
LCD remote w/headphones(1), rechargeable Nickel Hydride battery(1), recharger(1), alkaline AA cell(1), drycell case(1), carrying pouch(1), ear attachment(1)
LCD remote w/headphones(1), alkaline AA cell(1), carrying pouch(1), ear attachment(1)
Battery Operating and Charging durations
MZ-R50
MZ-E35
MZ-E25
Recording time
Playback time
Playback time
Playback time
Rechargeable
Lithium Ion battery
(included)
approx 4 hours
(included)
approx 7 hours
--
--
Rechargeable
Nickel Hydride battery
(sold separately)
approx 5 hours
(sold separately)
approx 8 hours
(included)
approx 6 hours
(sold separately)
approx 4.5 hours
Rechargeable NiCad battery
--
--
--
approx 2 hours
Alkaline AA drycell
using 2 cells
(sold separately):
approx 5 hours
using 2 cells
(sold separately):
approx 12 hours
using 1 cell
(included):
approx 8 hours
using 1 cell
(included):
approx 6 hours
Nickel Hydride +
Alkaline drycell
--
--
approx 16 hours
--
Lithium Ion + Alkaline drycell
approx 12 hours
approx 22 hours
--
--
Lithium Ion + Nickel Hydride
approx 10 hours
approx 15 hours
--
--
Recharge time
Lithium Ion: recharges in unit
80% charge:approx 2 hours
full recharge:approx 3 hours
Nickel Hydride:with separately sold charger
approx 75 minutes
with included recharger: approx 1 hour
* Customer information:
Sony Customer Information Center
Tokyo:03-5448-3311
Nagoya:052-232-2611
Osaka:06- 539-5111
---