Sony MZ-R110PDA/R120PDA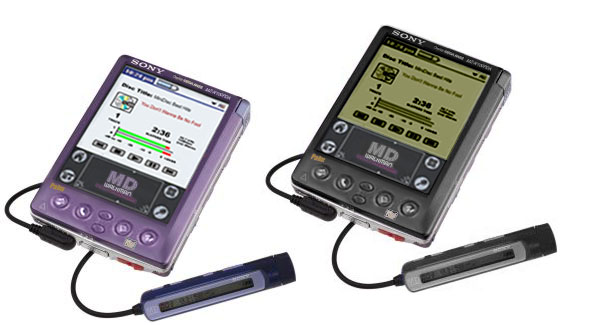 MSRP (MZ-R110PDA): $299.00
MSRP (MZ-R120PDA): $449.00

Features and Specifications
General
Portable MiniDisc Recorder with integrated Palm® compatible PDA.
USB Connectivity Kit with MP3 integration.
Backlit Active Matrix Color TFT Display (MZ-R120PDA).
Easy to read backlit High-Contrast monochrome Enhanced Display (MZ-R110PDA).
PC or Macintosh compatible MD-Link and Palm® Software.
Battery Life: 12hrs (approx.) recording, 22hrs (approx.) playback MiniDisc-operation only, 2-months PDA-only operation.
Rechargeable LiIon Battery with fast-charging station.
SmartPower™ Mode, preserves PDA operation even when weak battery prevents MiniDisc operation.
Small size and weight: 78.9 x 18.9 x 109mm, 147g
MiniDisc Recorder
Configurable display layout with Custom Display Programming.
Touch-screen display operation.
TrackList™ menu-based track selection.
Easy stylus-based titling features.
ATRAC Ver. 1.0a Type-R DSP with ATRAC3 Variable Bitrate CODEC.
Compatible with ATRAC or ATRAC3 and mixed-mode encoded MiniDiscs.
Up to 80 minutes recordable using ATRAC codec.
Up to 5 hours recordable using ATRAC3 variable codec.
Sample Rate Converter.
MenuHelp™ System for easy, intuitive editing.
Backlit Stick Controller remote.
Digital Optical mini-Toslink Input and Output.
Digital Input Level Adjustment.
LevelShift™ post-recording digital level adjustments.
Repeat modes: all repeat, 1 repeat, shuffle.
Time/Date Stamp.
Background Playback allows MiniDisc to be playing while running PDA applications.
Quick-Record function allows unit to record in background while display is not in MiniDisc Mode.
Palm Personal Data Assistant
Operating System: Palm OS® 3.5 software
Applications: Date Book • Address Book • Mail* • To Do List • Memo Pad • Expense • Calculator • Security • Games
Palm Desktop Organizer Software: Date Book • Address Book • Mail* • To Do List • Memo Pad • Expense • Calculator • Security • Games • HotSync® technology for local and remote synchronization with your PC • Drag and drop links to Microsoft Word and Excel • Desktop import and export formats: CVS, TAB delimited, and TXT • Expense report templates (MS Excel 5.0 or higher)
Internet-ready with TCP/IP software included to enable Internet-based applications and e-mail.
IR Port: Beam your business card, files, and applications to other IR-enabled Palm OS devices.
Storage Capacity: 8MB RAM stores approximately 10,000 addresses • 5 years of appointments (approximately 3,000) • 3,000 To Do items • 3,000 memos • 400 e-mail messages* • and lots of extra applications, books, language translators, image viewers, dictionaries, games, and more. Empty space on MiniDisc can be used as additional storage space, up to 140MB can be allocated to store up to 175,000 addresses • 88 years of appointments (approximately 53,000) • 53,000 To Do items • 53,000 memos • 7,000 e-mail messages.
USB Connectivity and MD-Link
MZ-R110PDA/120PDA can be linked to PC via USB interface.
Drag & Drop file or track transfer between MZ-R110PDA/120PDA and PC.
Nearly instantaneous MP3 to ATRAC3 or ATRAC conversion.
Easy to copy MP3 to MD, simply drag the MP3 to the MD icon on the desktop.
Editing and titling features available on PC.
Lossless copying of tracks to PC and back.
MZ-R110PDA/120PDA can be used as a USB disc drive, storing up to 140MB on MD-Audio or MD-Data discs.
System Requirements
PC System Requirements
• IBM-compatible 486 PC or higher
• Windows 95/98 or Windows NT 4.0 operating system
• 8MB RAM minimum (16MB recommended)
• One available USB port
• Mouse
• 20MB available hard disk space
• CD-ROM drive (diskettes may be ordered)
Macintosh System Requirements
• Any Apple Macintosh computer or compatible system with a PowerPC processor
• System 7.5.3 or later
• CD-ROM drive
• One available USB port

Optional Accessories
Sony RM-D10P IR titling keyboard (compatible with PDA functions).
USB Keyboard.
---
Sorry, April Fools! Thanks go to Shawn Lin for the excellent digital darkroom work.
---