MDX-60
(Original Sony Japan Page)
A 6 disc MD changer, made smaller and lighter so that it is possible to install in places such as the glove compartment.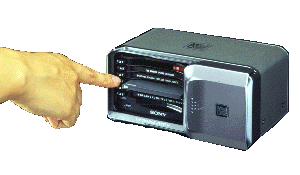 MSRP JPY 72,000 (US$720) On sale starting 21 Oct 1995
Basic Features
A 6 disc MD changer which is possible to connect to our master unit.
Its small and lightweight design makes it possible to install in the passenger compartment. It can be freely installed at a range of angles from 0 to 90 degrees (adjustment unnecessary).
By adopting a design where each disk slot is separate ("Direct Disc Slot In"), changing discs in the passenger compartment is made easier, and the "Exchange" function allows one disc to remain in play while others are changed.



Basic Specifications
Frequency response 20~20,000 Hz
SN 95 dB
Dimensions 176x84x125mm
Weight approx 1.1Kg
---
Translated by Eric Woudenberg (please notify me of any errors)