Peter Link's Wooden MiniDisc Racks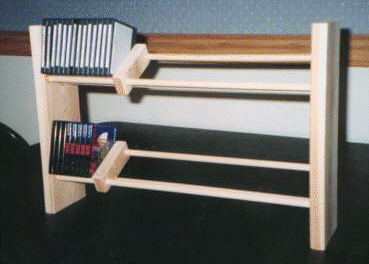 The rack is a miniature version of the wooden cd racks available at many record stores. It has two end pieces and in between are dowels that span across. Three dowels form each rack and there are two racks each able to hold 46 minidiscs (total cap. of 92). I threaded each three dowels with sliding endpieces to prevent the discs from falling over. The models for CDs have the same feature. The unit is made of blue spruce. I sanded all the corners and edges. It is unstained, but can be stained black, natural, or as you like. It actually looks pretty good unstained. The dimensions of the endpieces are 11"H x 3.5"W. The unit is 16.75" long (end to end). I made it this long because it fits perfectly on top of my CD player (or any standard length component).

I can make these units for any interested minidisc list member, but I'm still not sure how to send them. I think the best way would be to send them unassembled since it is only held together with wood glue (like the CD units). The price is $25 plus shipping. Please contact me at [email protected] for further details.
---