An Interview with Martin Stephenson
September 2000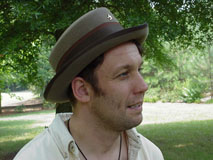 Martin Stephenson
From the Producer
My name is Dolph Ramseur ([email protected]). I just produced a project that brought Scottish singer-songwriter Martin Stephenson (originally from Newcastle England) over to the United States (North Carolina to be exact) to record an album using a Sony MZ-R70 and a Sony ECMMS907 Microphone.
The album finds Stephenson interacting with many North Carolina musicians in various field recording situations. Songs were recorded on front and back porches, living rooms, dining rooms, etc...
Stephenson is heavily influenced by the music of North Carolina (Doc Watson, Charlie Poole and the North Carolina Ramblers, Etta Baker, etc...) and we traveled around the state meeting and pickin' with some of the best musicians in the world. I am going over to Scotland in November to edit the "MD's" in Redwood Studios.
The sound quality is great considering the locations in which the recordings were made. I am very pleased and Martin thinks more artists should use the minidisc method. Before coming over to North Carolina he just recorded an album called, "The Church and the Minidisc." That album finds Stephenson recording in a church that is 500 years old and using a minidisc recorder. Old technology meets New!! Check out the following: http://www.martin-stephenson.co.uk. Or listen to the song Bengarrick [3.2MB] from The Church and the Minidisc.
Interview
MDCP In what ways does MD "enable" you? What makes it particularly useful to you (vs. say DAT, or PC based recording)
Martin Portability. Simplicity. This is why I did the album 'THE CHURCH AND THE MINI-DISC'. I took the minidisc to Croik Church in the rural glens of the North of Scotland. I had no engineer charging me a fortune and just an acoustic guitar in a gig bag and did some of the most meaningful recording of my career.

MDCP Are you at all concerned about the difference in fidelity between MD and CD or other various "mastering" formats?
Martin Not concerned because the minidisc is fresher and more pleasing to my ear than the likes of DAT and A-DAT or Analogue.

MDCP What new features would you find helpful on an MD recorder? Would more precise editing in a portable be useful? Do you use the AGC (auto gain control) when recording?
Martin I'm probably not even using minidisc to its full potential yet. I do think it's one of the most spiritual manifestations in recording history so far. To me the epitomy of a fully evolved troubador has a gigbag and acoustic guitar. A laptop in a carrier bag and a minidisc in the zipper of his gigbag. Beat that. I cut and mastered two serious albums in the space of 4 hours for the cost of GBP 50. Unbelievable. I have recorded at Capital studios LA running up budgets of 120K and never got near the pure acoustic sounds I recorded myself with my lovely little Sony stereo mic and minidisc. Unbeatable. I want you to help me make this album the CHURCH AND THE MINIDISC be a launch platform for the minidisc revolution to counter the extreme waste of high powered recording studios and would be happy for you to use my project to raise conciousness of the power mini disc recording.

MDCP How does MD change your music making techniques or the nature of the music you make?
Martin I listen to recordings I made with some of the so called finest producers in the world and think how free I am now with my minidisc and how much purer and true and honest my minidisc recordings are. I can manufacture 1000 albums with great artwork and production giving a true picture of my abilities and vulnerabilities for GBP 975. Out of that 975 I would say my recording costs are usually about GBP 20 tops. GOD BLESS THE MINI DISC.


If you are interested in learning more, please consider joining the Martin Stephenson mailing list.
---