Nic Boyde's Information on Minidiscs and other Japanese Electronics.
MZ-EP11
Comes in two versions, this and the MZ-EP10 which has a less rugged design. The feature that sets these apart from the other Sony players on the market is the slot-in loading. Just jam the disk towards the top of the machine, and the case cover obligingly moves out of the way. If you've got the disk the right way round that is, so don't jam it too hard. There is an eject lever that can also be operated blind. The LCD remote controller is the same as used for the MZ-E50 and shows disk and track titles in Roman characters (assuming that your disk has Roman character titling of course). There is a loudness suppressor switch (AVLS).
Designed to be operated blind, in a pocket or bag.
Comes with a rechargeable NiH chewing gum battery NH9WM and a standard AA, either of which can be put into the same battery compartment.
Battery Life

| Batteries | Playback |
| --- | --- |
| NH9WM Nickel Hydride rechargeable battery | 4 hours |
| 1xAA alkaline dry battery | 5 hours |
MSRP JPY38,000.
Specifications
Feature
Details
Official Name
Slot-in Loading Minidisk Digital Audio System
Package includes
MZ-EP11 (no LCD)
soft carry pouch
headphones
100V Battery charger
LCD remote control
NH9WM battery
1 Sony AA battery
manual (inc. English section)
Channels
2 channels
Compression
ATRAC
Frequency Response
20Hz-20kHz
Wow and Flutter
below 0.001%W peak
Output Ports
Headphones: stereo mini-jack, maximum output level 5mW +5mW
Power sources
DC 1.2 NiH Rechargeable battery NH9WM (1200mAh) or NH14WM (1400 mAh)
DC 1.5V from internal 1 AA size alkali cell.
DC 1.5V Car cigarette lighter adapter DCC-E215.
100-240V battery charger BC7HT
Dimensions
80 x 18.5 x 104 mm
Weight
Net including battery: 185g
Gross: 400g
Misc.
The CK-EP10 is an attractive leather holster with shoulder strap.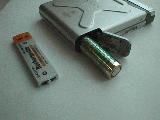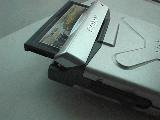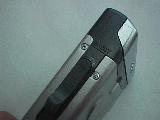 Author: N C Boyde [email protected]
(c) Copyright 1997 1998 2003 N C Boyde
All copyrights and trademarks, registered or not, are the property of their respective owners.