Aiwa AM-F70 Minidisc Review
"Use MiniDisc professionally?" ,one might ask. Of course! I use mine on the air every week! I'm an audio consultant as well as engineer and co-producer of the nationally syndicated talk show "Crime Talk". For anyone interested it's heard live via satellite nationwide on Sundays from 5pm-6pm CST on SatCom C5, transponder 23 (Vertical), SEDAT Channel 16.
Also, check the CrimeTalk website for the show in RealAudio.
Believe me, minidisc.org was more than instrumental in making my decision. I ended up with the Aiwa AM-F70. What a great unit! It has a great backlit LCD on the remote AND on the main unit. I don't think I've seen this feature on any other portable MD recorders. It also has a great input jack. It's a combo of LINE/MIC/Optical. The optical link I built using a plain LED and the 7404 hex inverter chip REALLY WORKED great! The plans of this are on www.minidisc.org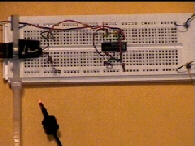 How Much Does It COST?
The internet retail prices range from $299 and up. Circuit City is currently selling them for about $299 + TAX. Prices probably can be found cheaper if one lives in Japan or Hong Kong. Good deals can also be found on the NET.
Dimensions
The Aiwa is a little bit thicker than 3 MDs without their cases on. It's definately not the smallest, but the display is a bit larger than many of the MD units coming out (i.e. MZR-55 which has a small LCD) Here's how it sizes up:
| | |
| --- | --- |
| Dimension | Units |
| Length | 97.0 mm (3 3/4 in.) |
| Width | 77.6 mm (2 15/16 in.) |
| Thickness | 19.3 mm (10/16 in.) |
| Weight with internal battery | 197 grams (very light) |
Battery Life
The battery life for playback is pretty good with 10 hours. The battery life for recording with the internal Lithium Ion battery is around 4-5 hours (I've used it longer than this in the studio). You can extend the battery life by using the external battery adapter. It is a little awkward because it doesn't attatch directly to the main unit(velcroing the pak to the bottom of the unit works nicely, plus I can stick the it in my truck too!). However, it would be ideal for a trip or where you could pack it away until needed. The Lithium Ion Battery by Aiwa is model number LIB-902. I would recomend getting a second one. The ext. battery pak is good, but I'd rather have an extra lithium. The 40 hour battery life they claim is also superb. Not to mention the 40 second digital anti-skip(I still haven't gotten it to skip in my 4x4 while off-roading). It seems to keep on chugging along forever on its 3.6v 700mAh lithium-ion battery. I sat down in the studio for at least 3 hours recording, playing, editing, etc. and the battery meter was showing near full strength. }

| | |
| --- | --- |
| Operation Mode | Duration |
| Playback with Internal Battery | 14 hours |
| Record with Internal Battery | 5 hours |
| Playback with External Battery | 28 hours |
| Record with External Battery | 15 hours |
| Playback with Both Batteries | 57 hours |
| Record with Both Batteries | 19 hours |
RECHARGING
Recharging with the AC adapter takes approximately 2 hours to completely charge the Lithium Ion battery. Unfortunately, this unit does not allow you to play/record and charge at the same time. You must completely stop the unit for it to charge. To charge, one only needs to plug in the power supply to the unit and wait several seconds as it begins to charge. It does not require you to press a button to charge it. This is great because you can plug it in and forget it until you need it again.
The Remote Controller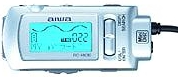 It comes with a really cool, and useful, LCD remote. The remote performs alost all the functions as the main unit. It even goes into record mode. I dont use the LCD much though, because it uses more battery power and also because I use it in the studio and don't need more wires to keep up with. (For those of you who have ever been to a studio you know what I'm talking about.) The remote is very clear and is backlit. The remote includes the standard buttons such as volume, forward, reverse, play, pause, stop and hold. It does also include mode, DSL (bass boost), Disp (Display), Enter and Search. The enter and search buttons are for programming certain songs. You can also program tracks. The clip on the back is sufficient however it seems small. The Input/Output of the remote is on one end, so it's kinda tight. If you're used to the Sony or Sharp remotes, it might take a little getting use to. It did for me, but I've come to enjoy it. There are also waves running on the remote that displays when you play your md. It's similar to the fish that run across the remote display for those Sharp remotes. Overall - GREAT remote. I like the Sony MZ-R55 remote and Sharp 721 as well. Some may have a hard time getting used to the plug orientation. I used the remote head alot when in the recording studio mixing a 24-track recording to a 2-track minidisc recording. It is hard to have stuff on top of the board, so I set it off to th side, and just use the controller. YES, this thing is good in a studio! I've even backed up several of the studio's DAT Masters an 24-track tapes to MD! Any of you in the recording buisness can testify to how precious those masters are.
External Battery Pak
The battery pack takes a total of 3 AA batteries. It has a plug that plugs into the unit. It is a little different than the normal external battery packs on the Sony's and Sharp's. It does however extend the battery life to up to 40 hours of playback with both batteries (internal and external) combined. Really nice for those long trips, however it is big and clunky. The external battery pack for the Aiwa is actually half size of the unit itself. This in my opinion is a little too large. I've rarely used it, however it may come in handy. I put rechargeable 'AA' batteries inside, so I save some money on new batteries all the time. I've also found the Energizer lithum 'AA' batteries to have extemely long life.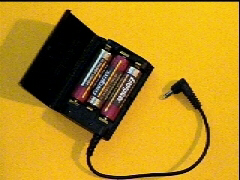 Playback Functions
The playback functions on the Aiwa are very simple to use. One presses the play button and it plays. One nice feature -not available on any portable recorder as far as I know - is the ability to program tracks. This is different than moving tracks, but more like the ability on most home CD players where you can program certain tracks on your CD player. Another nice feature is the way the AM-F70 allows you to play in "2x" speed. This is accomplished by holding down the play button for longer than 1 second. The pitch and sound is the same, it just plays faster. It doesn't have that fast forward "chipmunk" sound to it. The unit also allows you to play back mono and stereo recordings in this way, a nice feature for recording class lectures. Yes, this is both mono and stereo recordings, unlike some Sharp MD recorders.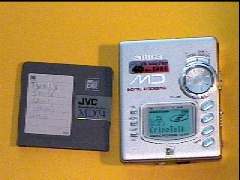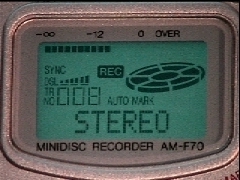 Recording Functions
One of the best features about the AM-F70 is the ability to set one's recording level WHILE recording (except for optical mode). You can use a mic or a cable, either analog or digital cable to record from another source such as a CD player. One records by pressing the red record button shown below and sliding it to the right (similar feature as Sony MZ-R55, 50 and 30). Fortunately you do not have to press "End Search." This is one less step to record unlike the Sony MD units. The Aiwa has a Sychro record allowing you the unit to only record when there is a source. You also have the ability to "mark" tracks during the recording. Most of you may already know this, but this recorder allows you to record in mono and stereo mode too. If you look at the back of the unit, it displays "Input Select." It seems that since the line in and mic in share the same connection, you change the input select to either "Line" or "Mic low/high." (Look at back of unit) The unit also allows you to automatically mark tracks in intervals of 5 minutes while using a mic. Like the Sharp, one can also adjust the record level when recording with a mic. One does so by pressing either the (-) to decrease or the (+) to increase the mic in. There are two types of recording modes with a mic in. One is the ALC (automatic level control) and the manual mode. For Sharp owners, the manual mode is exactly the same as one presses either the "forward" or "reverse" button during recording. (Manual mode allows you to adjust recording level manually while recording) The ALC which is not found on other models and is a feature by Aiwa that will automatically adjust the recording level. Yes, that's right! It automatically senses when to increase or decrease the mic in level. A cool and neat feature. In the case of recording music from a LINE IN sourcs it can be a recepie for disaster. It is best used dor recording lectures or recording live events, where you never have any idea what the audio level may be. Tip: Use "manual" if recording in analog from your CD player or CPU. Use ALC when recording lectures or live events. Don't ride the audio too high! Remeber this is DIGITAL equipment. The audio level metyer should peak somewhere between "-12" and "-2". Basically is should be a -8 or -4 no more than that! If you get to "0db" it will sound terrible. Raising the gain too high is what causes many digital recordings to sound artifical and tinny, or worst case scenario, not at all. Once you reach "0" there will be no audio.

I/O Connections
All the standaed connetions are provided. One is a LINE IN(analog and digital and mic) that combines these inputs into one jack on the side of the unit. Yes, all three are in one connector jack. This can be confusing; as sometimes, I stick my headphones into the LINE IN jack. I've seen the line in for both analog and digital double, but I'd like to see an optical out for this portable. The other connection is the earphones/line out. It's labeled "OUTPUT" ;however, it provides a low enough signal for line out. The last connection is for the remote, which is pretty obvious as it connects to the remote. It is located alongside the OUTPUT jack.
Sound Quality/Bass Boost (DSL)
The bass boost is not labeled as "Bass Boost" or "Mega Bass" as other companies have done. Instead, Aiwa calls it Dynamic Super Liner Bass"DSL". There are 3 levels of bass that one can change. It is very simple to change the bass as there is a separate "DSL" button and you only need to press it. The sound quality for all the recent portable recorders are very good. I do feel ,though, that the volume does not turn up loud enough (only 10mW per channel)sometimes, but not as bad as other MD units that I've used. As far as sound quality I think its great! This of couse is MY professional opinion, and opinions, as you know, differ. Even after uplinking to satellite in layer 3 MPEG mono at 32kHz it sounds great.
I can only tell you how many engineers at ABC in New York commented on the "clean" digital signal I was sending them from the studio. Even after 2 passes through the satellite it sounds pretty good. We use SEDAT (Spectrum Efficient Digital Audio Transmission)Some audio quality is lost through SEDAT & MP3 encoding/decoding (4 times when all is said and done); however, seeing as the signal originates from Memphis, TN then passes along ISDN to New York, then is uplinked to a satellite (which happens to 22,300 miles above mean sea level), after that the signal comes back 22,300 miles and returns to Memphis via miles of telephone cable (ISDN) and is decoded as layer 3 mpeg mono, I'd say that's pretty dang good!!! Especially for a signal that has just travelled more than 45,600 miles !!!!!!
Accessories
The version of the Aiwa AM-F70 I purchased ( USA version AM-F70 manuf. May 1999) came with the unit itself, optical cable (Tos to miniplug), Lithium Ion Battery, carrying pouch, manual ( in English, French, & Spanish), remote, "swoops" earbuds, warranty papers, external battery pack , carry pouch, and AC adapter. The carrying pouch is similar to Sony's pouch and is nicely made. I think I'd rather see a hard case. The AC adapter plug is the same size as the adapter for the Sharp 7XX series and Sony MZ-R50 and R30 - Not to mention, several other portable CD players. It should also be noted that since Sony is the parent company of Aiwa, much of it's reseach & development is shared. Also, many items are similar or the same. The power adapter and case are just a couple examples. I'd imagine many of the M/O drive parts are the same too.
Main LCD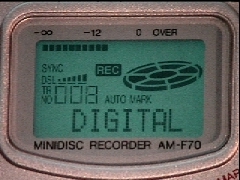 The LCD on the unit is probably one of the best features of this portable recorder. It has a nice greenish blue "IndiGlo" backlit and is very clear with large lettering (This is why the Aiwa AMF-70 is slightly longer than the MZR-55). The LCD displays the battery life, dB meter, track number, DSL (Bass Boost), time of track, and the spinning minidisc. You also are able to display the time and day on this unit during stop mode by pressing "DIS" or display.
Loading Mechanism
The loading mechanism on the Aiwa is a clam shell mechanism unlike the slot mechanism. It has the same clam shell idea as the Sony portable recorders. It slides in easily and I have yet to have problems with it getting stuck. It does ,however, seems somewhat delicate, and one should insert the minidisc carefully.
Possible Future Improvements
I've had only one problem with the unit. Out of the box, and even after charging it overnight, my AM-F70 will not keep the time/date used for stamping. I think the internal "backup" battery is dead. I'd be curious to hear if this has happened to others as well. On the back of the unit it says MAY 1999. I've had 2 different units both made in MAY 1999 and neither kept the date/time right. This may explain the battery, but then again backup lithiums should last for years. I bought mine at Circuit City and it was $299(as of 8-17-99). I'm not sure but I don't think any other electronics/dept. stores (like bestbuy or service merchandise) are carrying the Aiwa. I know Best Buy doesn't. Circuit City has it on their web page. www.cicuitcity.com
There are a few improvements that could make this recorder better. The ability to recharge the battery while playing/recording would be great. Reducing the size would also be nice;however, size is not a real issue, since the Aiwa is just slightly longer than the MZR-55. I think there should be a "LAMP" button to turn the light on or off. By default the light goes off after a few seconds to save battery power. When plugged in to the wall, the lamp remains on. Both can be a waste. A simple light switch would let one decide to leave it on, off, or auto. I'd also like to see ALL the buttons backlit. Most are, but I think in combination with the lamp switch it wouldn't use too much power. Of course, we all would like to see an "optical out" or "Coax OUT" on the rear of the unit. Having the option to use the "multi jog" dial during playback (kind of like a VCR's edit control "shuttle search" wheel) would be really handy for "scrub" editing. Unfortunately, it would probably raise the price per unit well beyond the $300 mark. Perhaps some more Research & Devolopment done using websites like minidisc.org would help these manufacturers tremendously improve the MD porduct they make.
Appearance/Construction
The buttons on the unit are extra nice in my opinion. The primary operations such as the forward, reverse, stop, pause and play keys are backlit. Yes that's right. They glow with the same color as the backlit LCD, which looks somewhat similar to a "INDIGLO" watch --A really nice feature for using your minidisc at night. The jog dial is great for titling. While not titling, the jog dial is the volume knob by default. The AM-F70 performs well when using the "multi jog" dial for titiling and for scrolling through the song titles. It's nice large size makes it easy to spin around. Of course, it has all the standard editing features and does not require you to hit "end search" before recording. This is a very annoying feature that Sony has. Another thing about the unit is the logical placement of keys. You'd expect the record button to be a slide button with a lock knob, and it is. (One must depress the lock knob before the slider will move.) The eject button operates smoothly, and once the lid is opened it "pops" the disc out about an inch. This makes it easy to grab. Since I'm using it on the air, I need to quickly grab discs and shove them in. I can't tell you how many times a show has come down to the last second due to technical issues. If it weren't for MD's fast insertion, random seek, and titiling, I'd be playing the wrong track or mabey nothing at all! Another point is that titling can be done while a MD is playing . One can title during playback by pressing the red record button and sliding it to the right. That's right, this button doubles as an editing button during playback. This allows you to get to the editing mode allowing you to title in English. From there using the mode button you can do several things including, track naming, erasing, all erase, renumbering, combining, and dividing. By using the jog dial, you can easily title tracks. Not until I bought this model did I realized how useful a jog dial is -I never really titled tracks before.
.
Summary
Overall, as an engineer, I have to give this unit a very high rating. Especially when compared to models simmilar in design, price range, etc. The others don't seem to stack up aginst this one. I'm definitely NOT an Aiwa fan, but let me tell you, if you have an old MD and your looking for a replacement, or if your a newcomer, you should give the AM-F70 a look. Combined with its cool look and design as well as backlit LCD and backlit buttons, it's easy to use DAY or NIGHT. www.minidisc,org is great for comparing all the latest models and features that will help you make a good, educated decision. It might not be the best portable recorder available, however it is one of the best portable recorders available today. Hey- don't take my word for it. Research for yourself and find out what features and prices suit your needs. There is nothing more dangerous than going to the store to ask the salesperson about MD - because they almost never know ANYTHING about them!
BE INFORMED, and shop smart! -73! T-Man, KF4DLK GridSquare:EM55
Top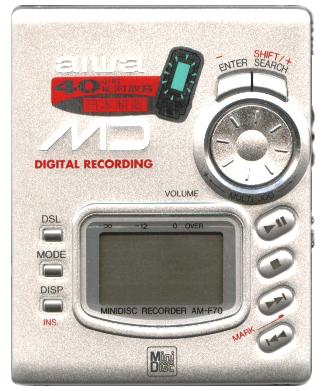 Back
Right

Left
Front
Rear

Post questions or comments in the alt.audio.minidisc newsgroup.
These are only my opinions about this recorder.
Your opinion may be different, so please keep this in mind.
Page created on September, 1999 by T-Man Productions (c) Copyright 1999. All Rights Reserved.
---